We know who holds the future
FATHER'S HOUSE SURVIVES UNTIL THIS SEPTEMBER
After that… our Faithful Father knows
Yes, you read the title correctly. After September, 1,  2017, Father's House will exist via complete dependence on the finances the Father provides through sponsoring churches, businesses, and individuals like you who believe in what we are doing.
We humbly ask you to pray and then obey the Lord's prompting to your hearts.
What's the story? Let's start with some great news. The founders of Father's House, Byron and Tammy Stinson, believe without a doubt that the Lord has spoken, saying, "NOW is the time," to set their affairs in order for a permanent move to Israel. They could be living in the Land by this time next year.
What does that mean? It means, since this past March, Byron has literally been working overtime to divest himself of his ongoing responsibilities in the United States – his business ownerships (certainly not simple), his board memberships, and, yes, his non-profit corporation, Father's House Educational Foundation. Tammy has been busy selling many of the Stinsons' personal possessions and assets. Most of us can only imagine the complexity and details they are right now in the middle of managing.
Since our founding in August, 2008, Father's House has been super-blessed with the joy and privilege of 1) providing funds for church leaders to experience the Land onsite with insight and 2) helping OTHER ministries raise funds through our matching grant offers. Meanwhile, from Day One, Father's House has had its own overhead and operating expenses – salaries, travel expenses, office space, IT support, utilities, supplies, and everything else. Did you know that virtually ALL of these operating expenses have been covered by Byron and Tammy and the businesses they control? The Stinsons have joyfully donated these funds as a Kingdom investment. Now, with this new move of the Lord in their lives, that chapter must close as a new one opens. The future of Father's House is right where it needs to be: in the Father's hands.
As of the writing of this article, all of the Stinson-provided funding for Father's House operating expenses is phasing out. We have enough in the bank to survive financially until September 1, of this year.
Multiple adjustments are in progress to assure that – throughout the dawning of a new Father's House day – this foundation continues to function, as inexpensively as possible, within two core areas of concern – 1) the production of biblically based educational resources for believers and churches and 2) the building of more educational journeys to the Holy Land.
Here is a short list of what has been and is now happening:
Byron has transferred "all things Father's House" to John Turner, and John has accepted.


John has officially been elected and installed as Trustee, Chairman of the Board, and Executive Director of the new Father's House.

An entirely new funding mechanism for Father's House operating expenses is being designed and implemented.

This funding begins with key sponsoring churches who have been with us to Israel at least twice and who "get" what Father's House is about. Those congregations are also eligible to send representatives to serve on the new Father's House Board of Directors, to be elected and installed this Fall.

The baseline of funding provided by sponsor churches and board members will be supplemented by regular voluntary gifts from other congregations, businesses, and individuals who believe in the Father's House mission.

Father's House is drastically down-sizing for efficiency of functioning and cost savings:

John Turner is moving from full time status to part time. John is trusting God for part time replacement income in order to "make a living." Already it is confirmed that, in September, he will return to part time work with the National Association of University-Model® Schools (www.umsi.org). He is praying for other part time sources of income as well.  

For the foreseeable future, John will office at home.

Sandra Williams, Executive Assistant, will reduce her hours from three days to one day per week, also working from home. She will serve as bookkeeper, manager of journey registrations, and editor of the monthly newsletter.

After the Women at the Well Journey in July, the next two Israel journeys on the Father's House calendar are in June and July, 2018. As these are being built, John will dedicate time to write a new book and Bible Study guide on "How to Hear God When Your Life is in Wilderness." He also just completed a new video presentation on God's consistent lessons and revelations at Jerusalem. He will produce a guide, suitable for individual or group study, for going deeper into those Jerusalem lessons. It is John's burden to get the message of the Father's heart for Israel out to churches more, in order to build believers in the Word and motivate them to "come home" to the Land.

To review: The production of biblically-based teaching resources for churches. The building of educational journeys to the Holy Land. These two core concerns will be the Father's House focus throughout its transition into a new future.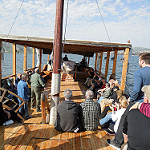 As the Father wills and provides, we will one day be in position again to offer matching grants 1) for helping church leaders experience the Land and 2) for strengthening worthy educational and mercy ministries around the world. But for now, think of the instructions we hear every time we board an airplane: "When that oxygen mask drops down, put it on yourself first before you help someone else." That is exactly the position we are in. To help others, we first have to exist. We have to breathe. That is why we need you right now.
Immediately, as you pray, we need your help in one of two ways:
We need your one-time, large, tax-deductible gift toward the development of the educational resources mentioned above and also, if needed, as emergency funds – a net to catch us – through the upcoming transition period.

We need you to help us find 10 churches who will average giving $175 each per month, 10 businesses who will average $200 each per month in donations, and at least 50 individuals who will average $43 each per month ($10 a week).
That would fund a budget of $5,900 per month. This nominal amount would enable Father's House to flourish next year in her two core areas of concern: producing educational resources and building educational journeys.
Be assured that our commitment will always be to live within our means (what the Father provides), and we will never borrow money.
To give your one-time donation and/or set up a recurring monthly gift, click here. When you do, please write, "For General Fund," in the Comments section, along with a verse of Scripture or prayer. 
Thank you in advance for your great support, encouragement, and prayers!
John would love to hear from you! His email is jturner@fathershousefoundation.com.