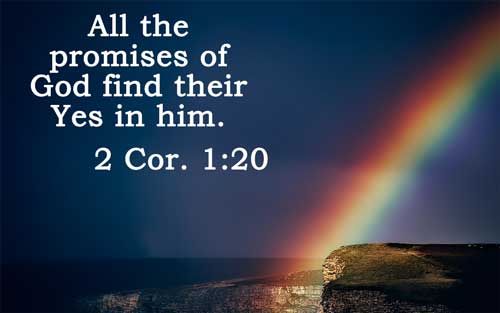 If you live anywhere near Glen Rose, Texas, bring your friends this Saturday afternoon, November 18, as we gather again to celebrate that all the promises of God find their Yes in Yeshua (Jesus). (2 Corinthians 1:20)
If you live too far away, you can still participate with us by reading the Scripture passages and praying that we can soon post the Yes in Him teachings online.
Yes in Him sessions are built around this year's reading schedule of the Torah, the Prophets, and the Gospels. Would you like a free copy of this year's list of weekly readings? Simply send an email request to jturner@fathershousefoundation.com. Include your preferred U.S. Mail address. While supplies last, I will send you a tri-fold brochure (4×6 inches when folded), suitable for keeping in your Bible or at your dining table or anywhere. As soon as you request it, I will mail you one right away.
Did you miss last month's announcement, explaining what Yes in Him is all about? If so, here it is.
What a great beginning we had on October 28! Roxie and I were delighted and encouraged.
Please note the following slight change: Although the main session (teaching and brief discussion) will again be from 4:30 -5:30 PM, we will begin with an optional sharing time at 4:00.
The 4:00 time will be laid-back and informal. We will talk about 1) how to use the Torah Portions reading guide, 2) what we got out of the readings since our last meeting and/or 2) what questions we are now asking for the sake of knowing God better. We are ALL learning and ALL on the journey.
Don't forget that every Yes in Him Fellowship is a stand-alone session. If you missed the first one, no problem. If you didn't do any of the readings, no problem. Each gathering is designed to keep all of us growing in the right direction. So, come on!
"We are a prayerful faith community sharing in common the passion to live what we learn. God is our Master Teacher and the ultimate Answer to all things. Together, we pursue the kinds of questions that will lead us into more intimate fellowship with Him."
Directions:
We meet at New Prospect Baptist Church in Nemo (8 miles out of Glen Rose). New Prospect is one mile south of Highway 67.
From Glen Rose, drive toward Cleburne on Highway 67. Take the first right turn AFTER the Brazos River bridge onto FM 199 South.
From Cleburne, take Highway 67 toward Glen Rose. Turn left onto FM 199 South right BEFORE the Brazos River bridge.
Once you are on FM 199 South, drive uphill for one mile. You will see the church on your left at the intersection with Road 200. 
Notice the carport on the Road 200 side. Enter through the door under that carport.
Roxie and I look forward to seeing you!
Blessings and prayers,
John