Sign up to get regular email updates about all 2021 Father's House Journeys to Israel.
---
What is a Father's House trip like?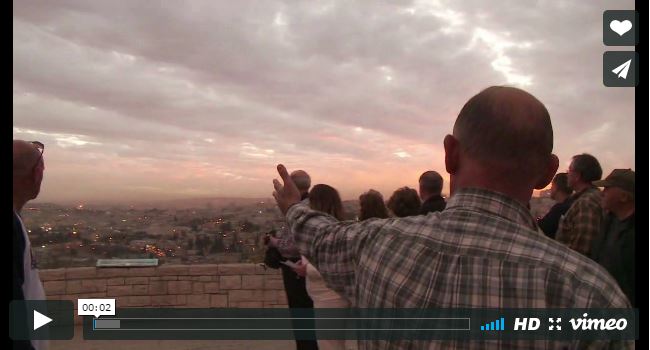 Father's House trips make biblical and historical education a higher priority over sight-seeing or shopping.  A passion that drives the FHEF vision is to make the words and events of the Bible more real and vivid to God's people by giving them on-site learning experiences at historic biblical locations.  The truth of Scripture that "comes to life" in visiting these sites is the real treasure of these trips.
Father's House trips are not typical Holy Land tours.  Trip participants should be prepared to do a lot of walking and intent listening.  At times, the group will stop to reflect, pray, and worship as they remember what God has done.   A Father's House journey does not go to many of the common "tourist attractions."  The itinerary may not include certain traditional places one might otherwise expect.
Let there be no mistake, however:  Father's House travelers do not come away disappointed.  To the contrary, they go home incredibly inspired and educationally enriched.  Participants testify of being blessed in life-changing ways, rejuvenated in their daily reading of the Bible, and excited about returning with Father's House on a future trip.
You will visit biblical sites that have only recently been verified archeologically, like the City of David and the Pool of Siloam.  In other cases, recently discovered evidence may indicate that a well-known biblical place is not exactly located at the traditionally accepted site.  A Father's House journey presents and explains the evidence toward the goal of better understanding the biblical record as supported by current research.
Father's House introductory journeys focus on Jerusalem, the Sea of Galilee, and their surrounding areas like the Tower of the Flock, the City of David, the Gihon spring, the Garden of Gethsemane, the Kidron Valley, Mary's tomb, and the Lion's gate.  Participants have the opportunity to pray at the Western Wall and visit the Mount of Olives, the Pool of Bethesda, and the newly discovered Pool of Siloam.  They go spelunking in Zedekiah's cave, worship at the Garden Tomb, baptize in the Jordan River, view the Golan Heights, and sail on the Sea of Galilee.  Other possibilities include Caesarea Philippi, Bethsaida, Nazareth, Mount Carmel, Megiddo, the amazing new discoveries at Gilgal, and much more.
Father's House continuing education journeys build on the introductory trips with a variety of itineraries that can include Israel's southern wilderness, the Red Sea, Egypt, Jordan, Syria, and the regions of Europe and Asia where Paul carried the Gospel.