Overwhelmed! That's the word that comes to mind when I think back on my Israel trip in February of 2017.  My name is Micah Smith, I am a worship pastor for StoneWater Church, and my life will never be the same after visiting Israel.
The presenc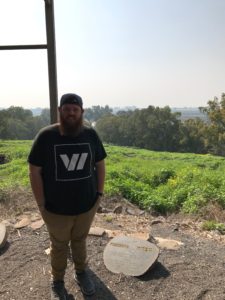 e of the Holy Spirit was overwhelming!  So many times throughout the trip, I found myself humbled in the presence of God. I truly feel like I clearly heard God speaking vision and direction into my life in many different areas.  God also gave me visions like I have never had before.  Visions about my children and even future generations in my family.  
I also had the privilege of leading our group in a time of worship in St Ann's Cathedral.  The moment I started singing, I was in awe of the sound I was hearing.  An inexplicable sound that can only be created by the voices of God's children worshiping Him.  God's presence was so real and tangible! It was an incredible moment with the group.
I was overwhelmed by the reality of who God really is.  I constantly found myself in awe of the preciseness of God.  It was amazing to see that everything God has done, is doing, and is going to do is exact, precise and His perfect plan. I could physically see how God created things, placed things, planned His creation and His people, and it was all for a perfect and precise purpose. It was so fascinating to take the knowledge I had of the Bible, and then see the physical locations where these events took place.  Until I physically stood in these places, I didn't fully understand the magnitude of what God was doing in those moments, and how it impacted His people.  
I was overwhelmed by the group of people I was with and the leaders of the trip.  Moshe took us to amazing places and the information he presented us with left me in awe.  This is a journey you have to take to accurately understand the people, places and events that took place in the Bible.  John and Roxie were incredible hosts! I loved being able to ask John questions that brought a lot of clarity to my biblical understanding.  I was also blessed with an amazing group of people that attended the trip with me.  We created great memories together, and it was a blast to experience all of this with them.
 I can truly say that this journey to Israel was life changing for my family and I.  God is continuing to use the experiences I had in Israel to teach me, and grow me into who He wants me to be.  Thank you to everyone who makes these trips possible. I cannot wait to go back!
Check out Micah leading worship in St Anne's cathedral here!