"On April 6, 1980, Adam Zertal, Ph.D, Prof. Of Archeology, University of Haifa was doing a formal archaeological survey of the traditional lands of Manasseh and discovered a Hebrew altar that dated to 1250 BC. Using pottery to date the site, Zertal said: "More important, however, is that they [the pottery] fix a date for the construction of the altar – approximately 1250 B.C.E." (Zertal, 2004) Zertal is the author of "A Nation is Born: The Mt. Ebal Altar and the Beginnings of the Nation of Israel"."
"Adam Zertal commented: "We discovered this place, all covered with stones, in April 1980. At that time I never dreamt that we were dealing with the altar, because I was taught in Tel Aviv University – the center of anti-Biblical tendencies, where I learned that Biblical theories are untrue, and that Biblical accounts were written later, and the like. I didn't even know of the story of the Joshua's altar. But we surveyed every meter of the site, and in the course of nine years of excavation, we discovered a very old structure with no parallels to anything we had seen before. It was 9 by 7 meters, and 4 meters high, with two stone ramps, and a kind of veranda, known as the sovev, around.""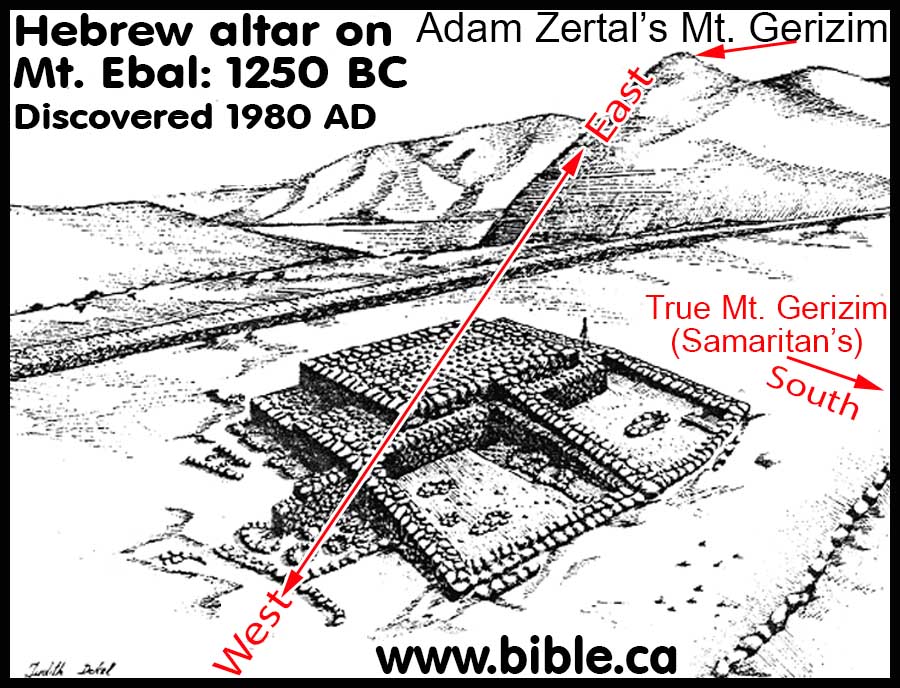 "Joshua: "Then Joshua built an altar to the Lord, the God of Israel, in Mount Ebal, just as Moses the servant of the Lord had commanded the sons of Israel, as it is written in the book of the law of Moses, an altar of uncut stones on which no man had wielded an iron tool; and they offered burnt offerings on it to the Lord, and sacrificed peace offerings. He wrote there on the stones a copy of the law of Moses, which he had written, in the presence of the sons of Israel. All Israel with their elders and officers and their judges were standing on both sides of the ark before the Levitical priests who carried the ark of the covenant of the Lord, the stranger as well as the native. Half of them stood in front of Mount Gerizim and half of them in front of Mount Ebal, just as Moses the servant of the Lord had given command at first to bless the people of Israel. Then afterward he read all the words of the law, the blessing and the curse, according to all that is written in the book of the law. There was not a word of all that Moses had commanded which Joshua did not read before all the assembly of Israel with the women and the little ones and the strangers who were living among them." Joshua 8:30-35″
At Father's House Educational Foundation, we would like to ask supporters to pray for our partners in Israel who have been offered an opportunity to have authority over this area. This is a huge door that could open the way to much more biblical education opportunities. We are so excited to have been and to continue to be involved in this amazing journey God is allowing.
As with Joshua's Altar, we also ask that you continue your prayers and support for our largest project: The Gilgal Biblical Education Center.
There are a variety of ways to support the Gilgal development. The first level requires no financial contribution. We only ask that you pray for God to continue to open doors, to provide financial supporters, and to help us build and protect this amazing testimony to the Judeo-Christian heritage we share. There are also levels of financial support you can offer. You can see these levels described at http://www.gilgalvisitorcenter.org/wp/more-inf/
Thank you so much for your faithful prayers and partnership!